White light interferometry (WLI) is one of the Optical Profiler (OP) with a non-contact 3D optical method. This technology employs low coherence characteristics of white light to generate interference waves by reflecting light from objects and reference surfaces through a beam splitter which, in turn, is used to get the surface profile based on the optical path difference.
What iST can do for you?

Surface roughness parameter.
Color 3D surface profiler.
Film Thickness Measurement
Case Sharing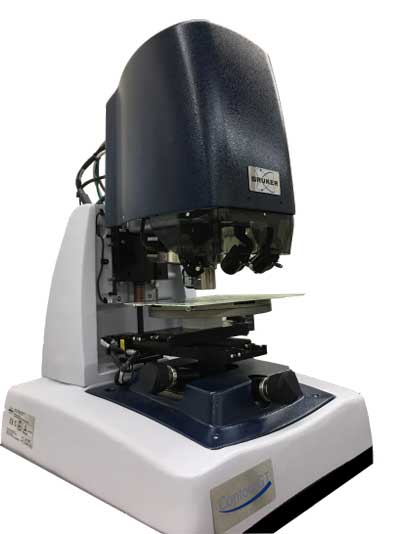 Bruker Contour GT-K Elite
Model:Bruker Contour GT-K Elite
Sample size: W200mm x L200mm x H50 mm (8"wafer Compatible)
Maximum weight:4.5kg (10 lbs.)
Depth measurement range:Max. 9mm
Nanoscale depth solution:~0.1nm
Maximum analysis scope:2.3*1.7mm2(single image)
Thick/thin film(measurable thickness):<=2μm(specific material) ; >2μm (known material refractive index needed)
Automatic stitching function to create a large composite image
Wafer measurement of semiconductor industry.
MEMS、IC Packaging、measurement of precision machinery components.
Size measurement of displayer、solar energy and LED industry.
Other services you may be interested in: