Issued Date:2022/2/15ESD test
Issued By:iST
Have you ever wondered why your product ended up with contradicting result after ESD test by different labs?

Or, shocked when two latch-up tests on the same product failed and passed respectively, only by a mere difference of 0.01V in supply voltage?

These two issues are the most common questions challenged by clients of iST's ESD lab.The most frequent scenario is: How come a sample with passed test result in-house or by other outsourcing labs would fail at the iST lab? This iST classroom will share with you cases of totally opposite results of ESD tests by the iST lab and how to judge which one is giving you the truth.
Electrostatic Discharge (ESD) may damage semiconductor components and totally fail the IC functions. This mandates that every IC design to be verified successfully for ESD protection against Human-Body Model (HBM), Machine Model (MM), and Charged-Device Model (CDM).
1. Latch-Up Tests with a Mere Difference of 0.01V in Supply Voltage Ended up with Totally Opposite Results

Tests made on two test devices with supply voltage differing by 0.01V (refer to Fig. 2) succeeded on the one with voltage at 3.54V and failed on the other at 3.55V. iST's recommendation: Make sure that the supply voltage is exactly the same or the results may shock you.

Figure 2: Make sure that the supply voltage is exactly the same or the results may shock you

2. The Tests Always Passed as the Test Device Came without Voltage Output at All

Some ICs to be tested are too sensitive to measure the IV-Curve as the latter may get them damaged. In cases like this, it is hard to tell whether or not a passed ESD test result indicates a good product or just because the test device came without voltage output at all. There is no voltage output (open circuit) in Fig. 3. In regular case, it's like Fig. 4 when there is a voltage output. If the IV- Curve measurement shows an open circuit like Fig.3, since the ESD test result would always be passed.

3. Tests Passed by Other Labs Yet Failed by iST Lab?

In this case the ESD-HBM tests by the other lab passed yet failed with 2KV by iST lab (Fig. 5). The iST lab cleared the interrogative inquiry raised by the client with the waveform log of the tester, and confirmed that the voltage and current output were qualified. Then, iST performed failure analysis and successfully found the defect.

Figure 5: Curves of PASS (in yellow) and FAIL (in red) by ESD tests with 2KV
These cases suggest that most issues with test results can be rooted to "the tester" or the tester's poor calibration. Testers calibrated less frequently than required may result in a dysfunction which, in turn, would lead to voltage output error and an invalid test result. The ISO/IEC 17025 specification mandates that the ESD shall be subject to an annual calibration. Practical experiences proved that more is necessary and that the iST ESD lab subjects these testers to monthly rather than yearly calibration to review and correct their waveform output.
In addition, the iST ESD lab's CDM devices shall go through 100 pulse tests each month to ensure their credibility (Fig. 6 and Fig. 7).

Figure 6: Waveform output: CDM +500V on the left and CDM -500V on the right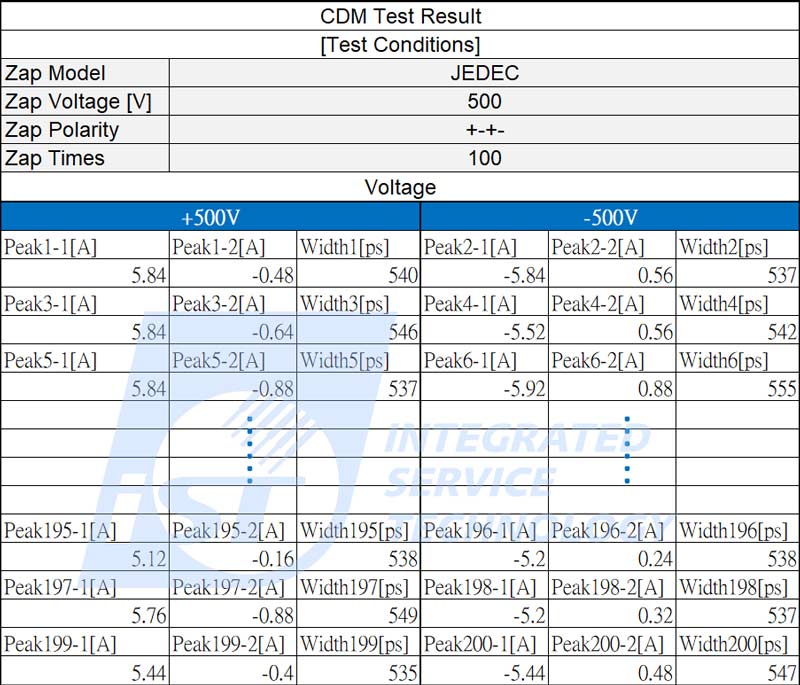 Figure 7: CDM 500V peak current data (connected with oscilloscope and with current of each test logged)
This is to share our experiences with you. Please call or contact the following for ESD measurement relevant problems or information at Tel. +886-3-579-9909 Ext. 6200 or Email at esd@istgroup.com,marketing@istgroup.com
Other services you may be interested in
ESD test