Issued Date: 2017/1/11
Issued By: iST
In addition to SEM shooting with stains, is there any better choice for product structure P/N well identification?

Is there solid data or graphics for easy P/N well location and type determination?
A P/N well is determined, in most cases, by staining the chip before measuring its width, depth, and epitaxial layer thickness with a scanning electron microscope (SEM). There is one drawback: Rather than solid data or color for P/N well identification, the B&W image by SEM requires the input of personal judgment and educated guesses. This is where the color features of SCM can do P/N well determination better.
The (AFM) atomic force microscope-mounted SCM detection module directly captures dC/dV signals by measuring with an AC conductive probe on samples after the cover adhesive is removed. This gives the P/N distribution for P/N well determination with changing color bars.
For the best P/N identification, it is recommended to obtain its width and depth based on a clear SEM image and then identify the position of the chip pattern with electrical color block analysis by SCM.
See below for an example of SEM and SCM integrated work. The SEM graphics to the left gives width and depth, the B&W electronic image can determine P/N wells together with the SCM picture to the right. That is: the positive electric (in purple) is a P well while the negative electric (in red) is an N well.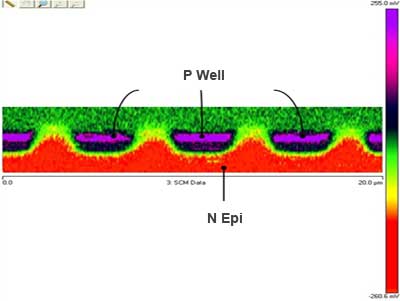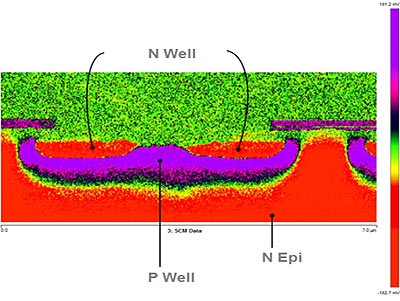 SCM N Well/ P Well /N Epi layer
Note: Scanning range of SCM chip sample: under 90um*90um; height in range of 2cm.
We are more than glad to share our inspection and test experiences with you. In case of any need for structure observation and determination and inspection or further information on relevant knowledge, please call Miss Ke at 03-579-9909 Ext. 6172 or send her an email at web_ma@istgroup.com.
Other services you may be interested in