Company Overview
A R&D partner for speed-up the time to market
iST, a laboratory for verification and tests of electronic industry. Founded in 1994 by raising funds of NTD$ 10 million in the initial stage of Asia's semiconductor industry, and began its business from IC circuit edit (FIB), which had changed the existing verification model in the entire semiconductor industry.
Aim to solve customer's pain point by assisting IC debugging, analysis and quality assurance. iST plays a R&D partner for customers to speed-up the time to market.
iST gradually expanded its scope of operations, including Failure Analysis(FA), Reliability Assurance (RA), Material Analysis (MA), Chemical/ Prpcess Micropollution analysis, Signal Integrity Testing and so on. iST has offered full-scope verification and analysis services to the IC engineering industry, its customers cover the whole spectrum of the electronics industry from IC design to end products. In response to rising Cloud Intelligence, Internet of Things (IoT) and Internet of Vehicles (IoV), iST not only focuses on its core services but is also expanding its service offerings based on international trends, such as Semiconductor Advanced Process Verification Platforms, Automotive Electronic Verification Platforms and IoT/ IoV Platforms.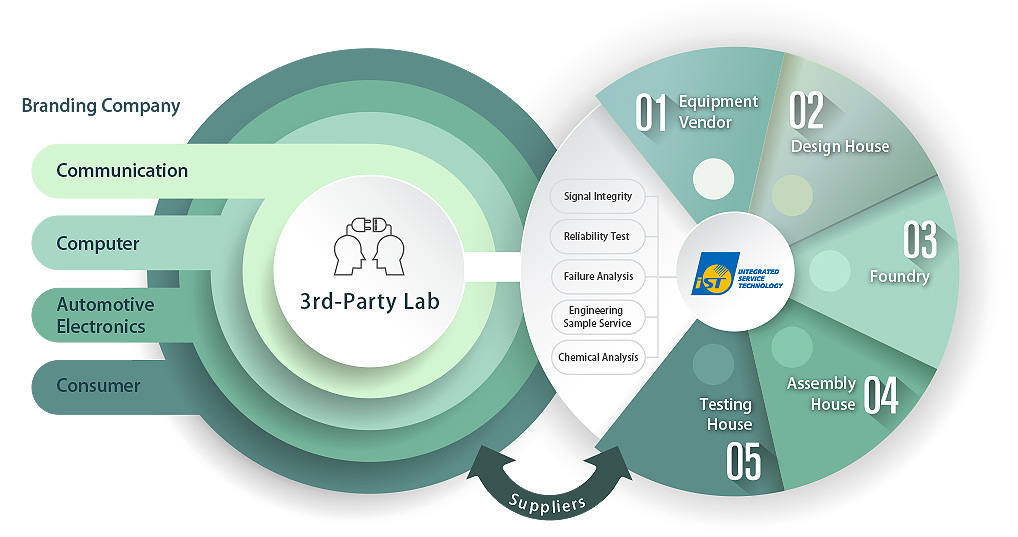 An impartial lab to assist customers in quality control
iST has been accredited by multiple international well-known and credible organizations including IEC/IECQ, TAF, TUV NORD, and CNAS. With increased outsourcing by major international brands, iST also plays the role of independent quality testing laboratory for OBM outsourcing products and associations.
From verification to mass production
As an experienced automotive certification expert, now, iST starts to provide the MOSFET Wafer Backend Process, which is a wafer thinning services(FSM,BGBM) available for customers between the foundry FAB and assembly operations, so the low power consumption/low on-resistance for MOSFET can be realized.
Global Vision
Headquartered in Taiwan, iST has led it to expand its operations around the world, including China; Japan; US. These are all dedicated to providing customers with prompt, reliable and high-quality technical services in order to grow with the leaders of the world.
Vision and Values
"iST's value is continuing to create value for our customers."
More than 20 years ago, iST was only a small laboratory in a humble apartment and the personnel was limited to 5. However, now the employees of iSTgroup are more than 1000. From the original site to today's main building, it only takes 20 minutes by walk, but it took iST 20 years, hacking way through difficulties and enduring great hardships in pioneer work; we constantly push for innovation to reach today's achievement.
The sign of iST's original site is not removed, which reminds us the old proverb, "Hard got, soon gone." As the third party laboratory, iST, upholds the integrity, and be strict for every detail; provide solutions with responsibility; fight alongside customers with cordial services; And continue to innovate, standing on the cutting edge to provide customers better test methods.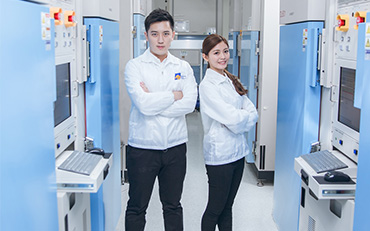 Create the most value for customers
We have the pleasure to be part of the history of global IoT industry. Accumulating thousands of solutions and technology core platforms; staying in step with international standards, even creating new expectations. We keep firing up for our goal in the past, present or future "Create the most value for customers."