The automotive electronics verification standard and process
you have to know about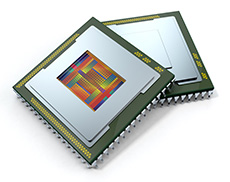 AI chip, core of automotive safety system
The National Highway Traffic Safety Administration (NHTSA) in the US defines autonomous driving in four levels from 0 to 4 based on the portion of driving done by the driver and the motorcar where Level 4, the highest one in its definition, requires the system to drive autonomously under any road and traffic condition.
Fully autonomous driving requires lots of sensors to provide drivers with vision, IoT for comprehensive traffic information beyond sight, maps for navigation to the destination, and last but not the least important are high-speed AI chips acting as the brain to think for the driver. Every piece of information, either internal or external, shall be filtered by it to make valid decisions.
Verification and QC mechanism is the key to validate chip functions
All these application developments are aimed at tackling the challenges of traffic jams and safety with driverless vehicles. But how can we ensure these sensor chips and automotive devices function as expected? The auto industry has come up with a comprehensive verification process mechanism to validate their reliability and design safety. International automobile brands also mandate their supply chains to set up QC systems to assure consistent compliance of vehicle devices with specifications (see figure below.)
Leave verification to iST when spearing into automotive electronic supply chain
In addition to AEC-Q100/AEC-Q101/AEC-Q102/AEC-Q104/AEC-Q200 reliability verification and failure analysis service in the field of IC devices, iST offers ISO 9001/IATF 16949/IECQ AQP QC system implementation coaching and consultancy service for enterprises working on breaking into the automotive electronic supply chain and getting certified under automotive environment protection specifications.
iST has a joint venture with DEKRA, the world's largest automotive safety verification and testing firm, called DEKRA-iST to provide one-stop service from total certification to verification to analysis of motorcars, modules, and devices with the world's most complete automotive electronic verification chain.
Combining familiarity with requirements from automotive factory, Tier-1, to devices and profound technology based knowledge service to maintain your automotive electronic products
Based on familiarity with OEM/DOP/AM automobile market reliability, safety, and environment protection specification requirements of automotive factories, Tier 1 and device manufacturers, iST is converting them into technical knowledge to provide you with professional recommendations and quality service to beachhead into automotive electronics markets.