Issued Date:2020.03.25
Issued By:iST
In response to the epidemic situation of COVID-19, iST(Integrated Service Technology) has deployed far in advance after the Lunar Chinese New Year holidays, immediately launching relevant epidemic prevention measures, including taking body temperature, disinfection with alcohol, etc. With the epidemic situation becoming more serious, iST further adopted rigorous measures, including customer access control, lab/fab control, and sample pick-up/delivery handling in order to safeguard the safety of employees and customers.
iST has sequentially launched the "work zoning" measure, deploying far in advance to ensure uninterrupted operations.
The rigorous epidemic prevention measures are intended to bring you service quality that sets your mind at ease. If you have related verification and analysis requirements during the epidemic prevention period, feel free to contact iST. While engaging in epidemic prevention, you may leave your samples with iST with peace of mind.
A. Customer Access Control
1. In order to safeguard your safety, you are advised to contact iST personnel via phone conferencing or video conferencing to ensure safe and uninterrupted services.
2. If you must come to iST for a meeting or be present for machine handling, please cooperate with iST's epidemic prevention measures:
Take the body temperature, wash/disinfect hands, and wear a mask before entering the lab/fab.
Please fill out the Health Declaration to the best of your knowledge.
Customers and guests whose body temperature exceeds 37.5℃ will not be allowed to enter the company.
Please wait at the lobby on 1F after entering the lab/fab to be guided to the meeting room or laboratory by personnel from the interviewed unit.
Avoid having conversations while in the elevator.
Please keep a distance between individuals of at least 1.5 meter during a meeting.
Please wear a mask at all times after entering the company.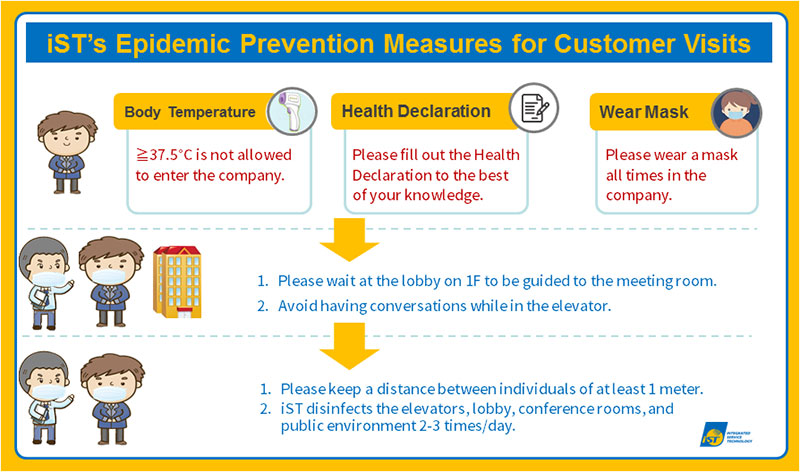 ※iST will temporarily suspend vendors' and general visitors' visits, except for customers. If it is urgent and necessary for you to enter iST, you are required to pass a review and comply with iST's epidemic prevention operations.
B. Epidemic Prevention Measures for Pick-up/Delivery Personnel
1. Delivery personnel arriving at your company to pick up/deliver items will wear a mask.
2. Every iST's vehicle has sufficient supply of alcohol for wiping and disinfecting the Delivery personnel's hands and sample pick-up/delivery packages (provided the external packaging allows).
3. The driver's seats of pick-up/delivery vehicles will be disinfected with alcohol twice a day (morning and afternoon).
C. Other Epidemic Prevention Measures
1. All iST employees' business trips abroad are cancelled.
2. iST disinfects the elevators, lobby, conference rooms, and public environment 2-3 times/day.
3. Alcohol is available at iST's laboratories and public areas for disinfection use by guests and employees.
4. Beginning March 30 (Monday), the restaurants throughout the lab/fab area and group meals will be served in lunch boxes.
5. iST has suspended the holding of all large group events, community events, and internal classes.
6. iST's lab/fab nurse will closely track and manage the health of employees.