Issued Date: 2017/6/9
Issued By: iST
iST announced its net revenues on a consolidated basis, revenues for May 2017 were approximately NT$221 million, a decrease of 2.06% from the previous month and increased 11.64% year over year, which set a second-highest level on the monthly record.
iST said, the revenue of May has been holding steady the NT$200 million mark due to the blooming demands of auto electronics verification, with its market share is more than 90%; in addition, the material analysis of iST Taiwan increasingly growing since it has continuously received big orders by the prominent customers.
The next step for iST's business will be the material analysis for the goal "ECO( Ecology, Conservation, Optimization)" in electric vehicle market. iST announced that they are going to cooperate with JFE Techno Research (JFE-TEC) the company who specializes in high polymer material quality analysis, by signing the Memorandum of Understanding (MOU). From this date, the two parties will be focusing on feasibility studies, finding overall solutions for technical problems worldwide, delegating cases for each other based on each company's expertise and developing the advanced materials analytical methodology in the market of China.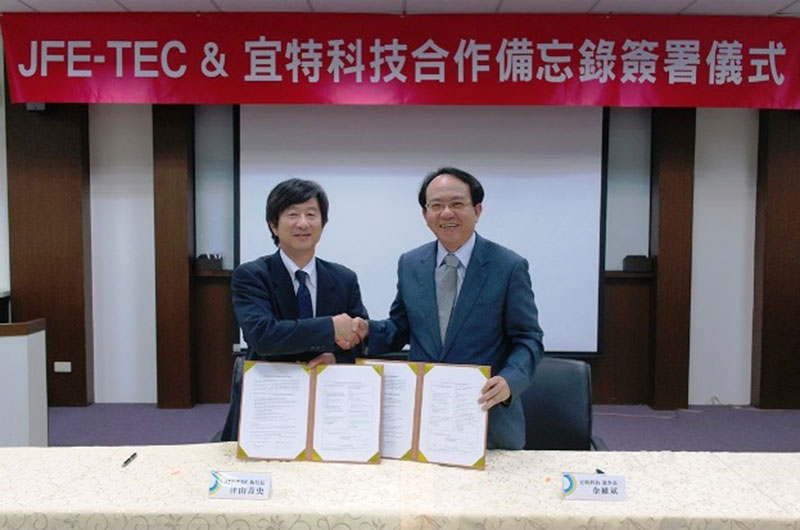 Seishi Tsuyama, the CEO of JFE-TEC (at left) and Danny Yu, the president of iST (at right) signed the MOU.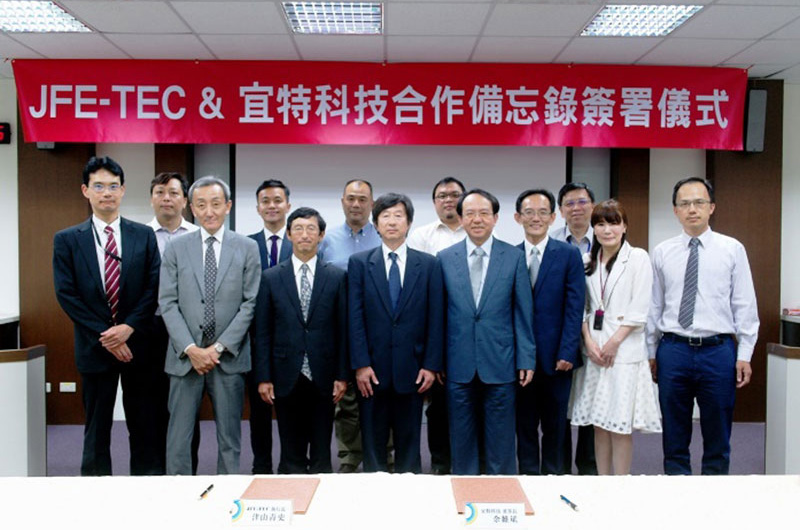 The representatives from both sides gathered together for the commitment of cooperation.
JFE-TEC's parent company, JFE Steel Corporation, not only ranks the top 2 and the top 10 largest scale steel company in Japan and the world respectively, but also maintains a good relationship with automakers as its overwhelming superiority on the steel supply for special purposes.
In recent years, iST has observed and noticed that China government has put electric vehicle as one of the main developing industries. As "ECO( Ecology, Conservation, Optimization)" has become the key element in electric vehicle, companies in this area focus on the study of the various methods on vehicle structures. Following the market stream, iST pointed out that it is necessary to look deeply into analyzing efficient materials to ensure the vehicles' stability and quality.
Since iST has entered the material analysis specific to semiconductor industry in 2014 and reached to 5 nm technique milestone. The MOU between JFE-TEC and iST not only takes iST's material analysis a step out of the semiconductor industry, but leads it to the advanced steel, high polymer and "ECO" auto material analysis field. iST believes that this cross-border co-operation will turn a new page for iST in the material analysis services in the future.
iST(TWSE:3289) May 2017 Revenue Report
(Unit: NT$ thousand)
| Period | May | January to May |
| --- | --- | --- |
| 207 | 221,189 | 1,047,254 |
| 2016 | 198,135 | 943,910 |
| Increase(Decrease) | 23,054 | 103,344 |
| Increase(Decrease)(%) | 11.64% | 10.95% |
About Integrated Service Technology
Founded in 1994, iST began its business from IC circuit debugging and modification and gradually expanded its scope of operations, including failure analysis, reliability verification, material analysis and so on. iST has offered full-scope verification and analysis services to the IC engineering industry, its customers cover the whole spectrum of the electronics industry from IC design to end products.
In response to rising Cloud Intelligence, Internet of Things (IoT) and Internet of Vehicles (IoV), iST not only focuses on its core services but is also expanding its service offerings based on international trends, such as Automotive electronic verification platforms and signal integrity testing services.
http://www.istgroup.com