Issued Date: 2016/6/8
Issued By: iST
iST(TWSE:3289) today (June 8, 2016) announced its net revenues on a consolidated basis, the revenues for May 2016 were approximately NT$198 million. Year over year, the consolidated revenue increased 25.94%, and increased 4.53% compared to last month, which has set a second highest monthly record.
iST said, the business performance of May is doing well, not only iST's China subsidiaries benefit sharply from the red supply chain, but the Material Analysis of iST HQ is appreciated by the international customers, which has both driven iST's revenues.
iST further pointed, material analysis is key to iST's investment lately. iST has doubled its production capacity in the last three years. Its material analysis technique is now accepted by international customers for 5 nm process verification with 24-hour non-stop operation for verification and analysis, also with its high-end equipment and techniques.
In addition, iST has new progress in automotive electronics field. Zhi-Xiong Zeng, the GM of Changchun FAW Automobile Trade Park Development Group Co., Ltd., visited iST in the beginning of June to exchange the management ideas and strategies of future China automotive industry with Danny Yu, the president of iST.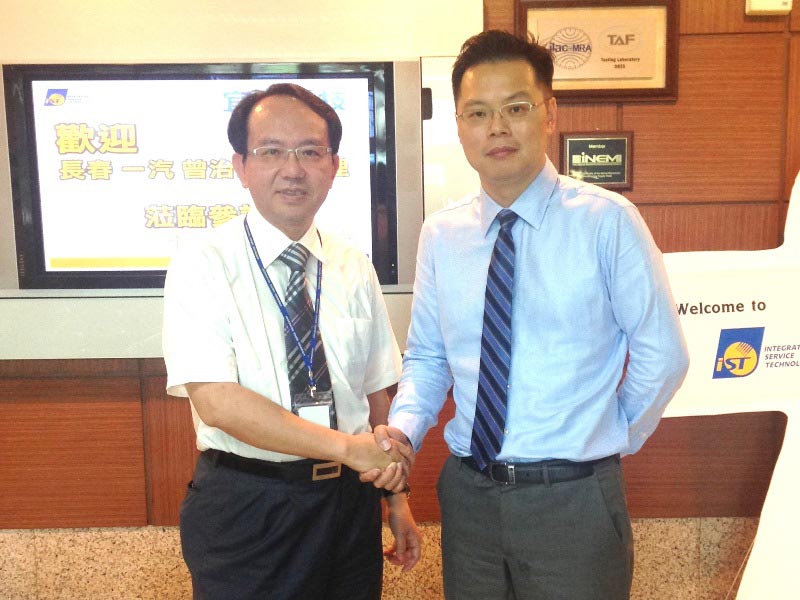 Zhi-Xiong Zeng, the GM of Changchun FAW Automobile (right) visits Danny Yu, the president of iST (left)
iST(TWSE:3289) May 2016 Revenue Report
(Unit: NT$ thousand)
| Period | May | January to May |
| --- | --- | --- |
| 2016 | 198,135 | 943,910 |
| 2015 | 157,320 | 808,256 |
| Increase(Decrease) | 40,815 | 135,654 |
| Increase(Decrease)(%) | 25.94% | 16.78% |
About Integrated Service Technology
Founded in 1994, iST began its business from IC circuit debugging and modification and gradually expanded its scope of operations, including failure analysis, reliability verification, material analysis and so on. iST has offered full-scope verification and analysis services to the IC engineering industry, its customers cover the whole spectrum of the electronics industry from IC design to end products.
In response to rising Cloud Intelligence, Internet of Things (IoT) and Internet of Vehicles (IoV), iST not only focuses on its core services but is also expanding its service offerings based on international trends, such as Automotive electronic verification platforms and signal integrity testing services.
http://www.istgroup.com