Issued Date: 2016/1/29
Issued By: iST
On Chinese New Year's Eve, iST has a very warm starting.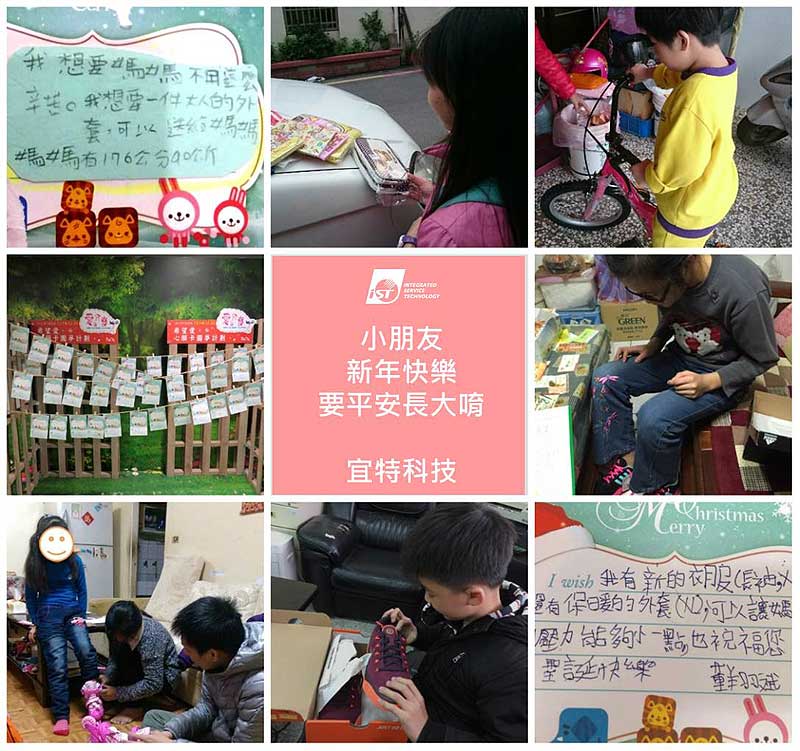 Danny Yu, the president of iST, accidentally heard a "Wish Card" dream challenger's activity hosted by Hsinchu government, co-hosted by World Vision Taiwan, Sunny Welfare association, Hsinchu's immigrant family service center, which was collecting disadvantaged children's wishes and urged the public to claim.
Kids to have a new clothes and shoes is a traditional custom of Chinese New Year, however, there are still many children from poor families are short of basic supplies, not to mention to have new clothes and shoes to celebrate the Chinese New Year.
When Mr. Yu heard this news, the activity was coming to an end, but there were still many wish cards hadn't been claimed at all. Hence, Mr. Yu decided to complete all the wishes for not letting any one of the children down.
For those underprivileged children, this was a good chance to get things they wanted. However, we were surprised and touched to find some kids they didn't ask presents for their own, but ask us to buy a warm coat for their parents to get through the cold winter.
It's iST's great honor to do something for those kids, and the uncles and aunties from iST appreciate those children for giving us such a meaningful start of 2016.