Issued Date: 2023/3/23
Issued By: iST (Integrated Service Technology Inc.)
With the assistance of iST, Clientron Corp., obtaining ISO 26262: 2018 ASIL-D Automotive Functional Safety Certificate from the German certification authority, DEKRA. Clientron is committed to expanding its presence in the worldwide smart automotive supply chain.
ISO 26262 is a globally recognized automotive functional safety standard, regarded as one of the basic requirements for suppliers to enter the automotive supply chain. The standard applies to the complete lifecycle of electrical and electronic components in the automotive industry, including initial safety concept, system development, software and hardware development, production, operation, maintenance, and scrapping. ASIL (Automotive Safety Integration Level) is a risk classification system defined by the ISO 26262 standard. ASIL has four categories – ASIL A to ASIL D, and ASIL D indicates the most critical level of development process.
Clientron Corp. has focused their efforts on the establishment of the functional safety system for their intelligent cockpit. It involves multiple development phases, namely functional safety management, development at the concept stage and system stage, software/hardware development, process safety, and product launch. Thanks to the professional consulting service and support from the iST's technological safety advisor team, Clientron Corp. managed to receive ISO 26262 functional safety certificate at the highest level of ASIL-D from DEKRA. This demonstrates that they can effectively control the risks and functional safety identified in the development process and deliver the product's safety and reliability. Therefore, their smart cockpit is well served with a safe, intelligent driving environment, which strongly positions them in the international electric vehicle market.
At the certificate awarding ceremony, Ms. Kelly Wu, General Manager of Clientron Corp., received the ISO 26262 Certificate from Mr. Aaron Lee, Managing Director of DEKRA Taiwan. Mr. Daniel Lee, General Manager of DEKRA Taiwan Product Testing Operations and Mr. Kevin Huang, Manager of Global Functional Safety/Cyber-Security, who is responsible for this certification project, Mr. Tai-You Tsou, Functional Safety Assessor, and Vice President of Integrated Service Technology, leading the assistance and consulting team for this project, attended this ceremony.
Ms. Kelly Wu, General Manager of Clientron Corp., stated that the successful ISO 26262 certification at the highest level ASIL-D represents Clientron Corp.' remarkable capability in working out safe, reliable, connected V2X solutions for smart cockpits by working to the development process and management system of international automakers. Clientron Corp. has set electronics, battery, electrical engineering, and electrical control at its core and integrated the EV automotive electronics system. With this solution, everything is interconnected, from autonomous driving information system and dashboard of the smart cockpit to BCM (body control module), VCU (vehicle control unit), AVAS (acoustic vehicle alerting system), and vision assistance system. The certification also expands collaboration opportunities with European and American automakers and tier-1 suppliers. Clientron Corp. thus showcases their determination to gain a foothold in the smart automotive supply chain and break into the global EV market.
Mr. Gerhard Rieger, Senior Vice President of DEKRA Global Functional Safety, emphasized that safety has always been key to vehicle development. Riding the trends of intelligentization, automation, and connectivity, vehicles will be mounted with more highly functional electronic products, but these electronic systems with high complexity entail considerable risks to safety. This is where ISO 26262 process certification comes into play to ensure compliance with the required functional safety level when developing vehicles. Therefore, early implementation of ISO 26262 process certification at the design and development phases significantly reduces failure risks while saving time, resources, and cost of development.
Mr. Aaron Lee, Managing Director of DEKRA Taiwan, expressed that the automotive industry is rapidly edging towards electrification, autonomous driving, and connectivity, and in turn drives the need for more advanced electronics and safety assistance systems in future cars. Accordingly, safety is of critical priority when it comes to design and development. Manufacturers can seek help from DEKRA's team of experts to implement ISO 26262, ISO/SAE 21434, Automotive SPICE and Cyber-Security processes. Besides, DEKRA provides integrated service solutions, including training, gap analysis, testing, and certification, for manufacturers to efficiently pass various international standards and process certifications, securing their entry ticket to the automotive supply chain.
Mr. Allan Tseng, Vice President of iST, who leads the consulting team for this project, added that DEKRA is the world's leading company in automotive electronics testing and certification, and iST has a superior advantage in the field of automotive electronics reliability verification and consulting. In 2020, iST started to cooperate with DEKRA to provide integrated solutions for automotive electronic functional safety through the partnership. We provide professional consulting services to Clientron from ISO 26262 specifications, covering process, production, development tool, and SEooC (Safety Element out of Context) as well as subsequent audit and certification applications, providing an integrated solution for automotive electronic functional safety.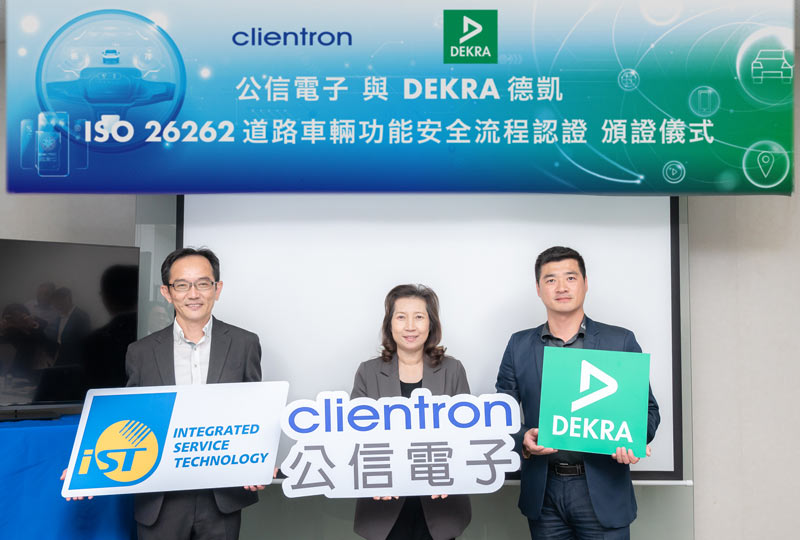 Caption:With the assistance of iST, Clientron Corp., Obtained DEKRA ISO 26262 Automotive Functional Safety Certificate.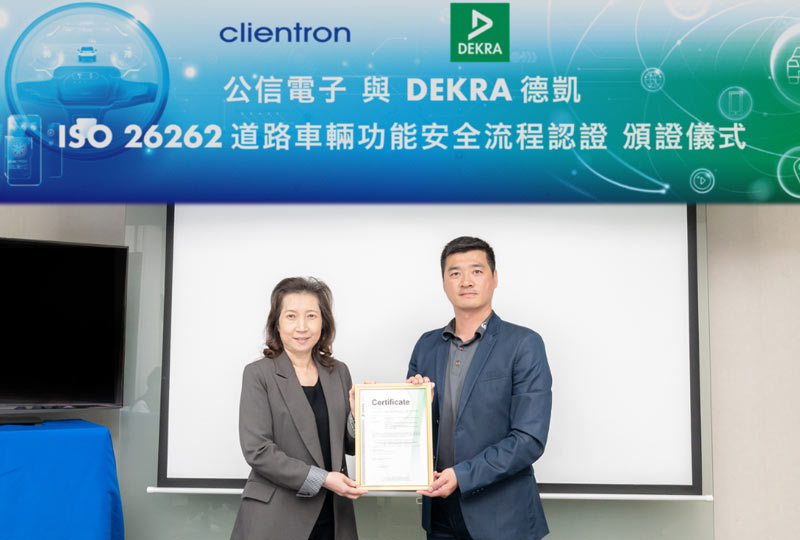 Caption:Ms. Kelly Wu, General Manager of Clientron Corp(Left). Mr. Aaron Lee, Managing Director of DEKRA Taiwan(Right).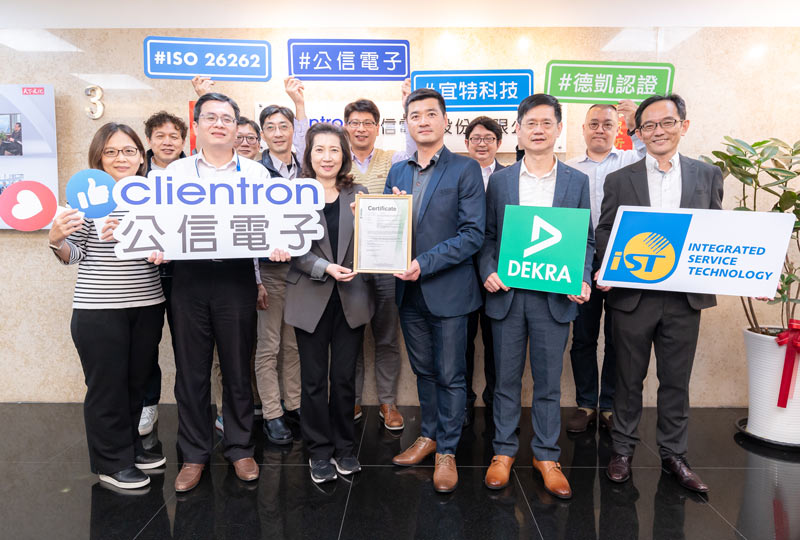 Caption:With the assistance of iST, Clientron Corp., Obtained DEKRA ISO 26262 Automotive Functional Safety Certificate.
About Integrated Service Technology
Founded in 1994, iST began its business from IC circuit debugging and modification and gradually expanded its scope of operations, including Failure Analysis, Reliability Verification, Material Analysis, Automotive Electronic Verification Platforms and Signal Integrity Testing Services. iST has offered full-scope verification and analysis services to the IC engineering industry, its customers cover the whole spectrum of the electronics industry from IC design to end products.
In response to rising Cloud Intelligence, Internet of Things (IoT) and Internet of Vehicles (IoV), iST not only focuses on its core services but is also expanding its service offerings based on international trends, such as automotive electronic verification platforms, signal integrity testing services. http://www.istgroup.com