Issued Date: 2023/3/10
Issued By: iST (Integrated Service Technology Inc.)
As the gaming industry continues to boom, iST Signal Integrity Testing Laboratory has recently obtained official recognition from the Video Electronics Standards Association (VESA) as an Authorized Test Center (ATC) for ClearMR certification. This means iST can provide customers with relevant technical research and testing services to ensure their products meet technical specifications and obtain certification marks.
Due to the inconsistent display specifications for image motion blur, including the vastly different GtG and MPRT specifications, consumers may be easily confused. Therefore, in mid-2022, VESA standardize the performance of displays during dynamic motion by introducing the Clear Motion Ratio Compliance Test Specification (ClearMR certification). This will clearly define "the proportion of clear and blurry pixels when displaying fast-moving images on a screen," which is the gaming enthusiasts especially are concerned about.
Last year, VESA officially released the ClearMR Compliance Test Specification (CTS) V1.0, which defined a total of seven different levels of performance (from ClearMR 3000 to ClearMR 9000). At the end of last year, VESA extended the levels to 11 (as shown in Figure), adding ClearMR 10000 to ClearMR 13000. The number associated with each level represents the performance ratio between clear and blurry images, with higher numbers indicating better performance in dynamic motion.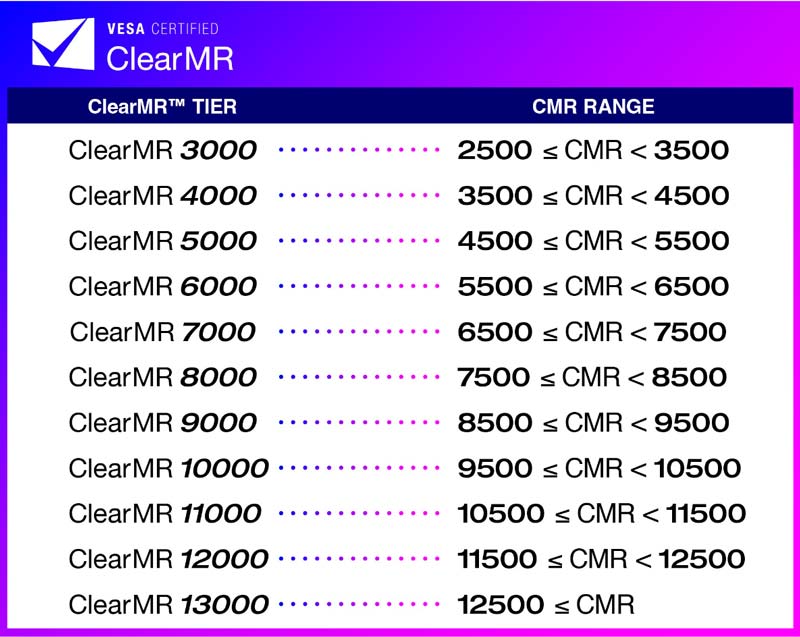 Figure: Range of VESA ClearMR Certification Mark (Image provided by VESA official website)
Only products that have passed the VESA ClearMR tests and certification are eligible to use the VESA ClearMR logo. Many display manufacturers such as Samsung, HP, and LG have already shown support for these new rules since its release.
iST stated that after becoming an authorized test center (ATC), many display, laptop, gaming, and OEM brands have inquired and commissioned iST for VESA ClearMR testing solutions.
Furthermore, iST mentioned that they have all the ClearMR certification testing equipment, environments (including dark rooms), and technical capabilities ready to provide Clear Motion Rate (CMR), Coefficient of Variation (CV), Overload, Luminance Degradation, and Backlight Strobing testings. iST can assist more related industries in testing and obtaining certification.
About Integrated Service Technology
Founded in 1994, iST began its business from IC circuit debugging and modification and gradually expanded its scope of operations, including Failure Analysis, Reliability Verification, Material Analysis, Automotive Electronic Verification Platforms and Signal Integrity Testing Services. iST has offered full-scope verification and analysis services to the IC engineering industry, its customers cover the whole spectrum of the electronics industry from IC design to end products.
In response to rising Cloud Intelligence, Internet of Things (IoT) and Internet of Vehicles (IoV), iST not only focuses on its core services but is also expanding its service offerings based on international trends, such as automotive electronic verification platforms, signal integrity testing services. https://www.istgroup.com