The automotive electronic verification standards and mass production process of power components you must know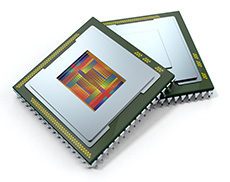 AI chip, core of automotive safety system
The National Highway Traffic Safety Administration (NHTSA) in the US defines autonomous driving in four levels from 0 to 4 based on the portion of driving done by the driver and the motorcar where Level 4, the highest one in its definition, requires the system to drive autonomously under any road and traffic condition.
Fully autonomous driving requires lots of sensors to provide drivers with vision, IoT for comprehensive traffic information beyond sight, maps for navigation to the destination, and last but not the least important are high-speed AI chips acting as the brain to think for the driver. Every piece of information, either internal or external, shall be filtered by it to make valid decisions.
Verification and QC mechanism is the key to validate chip functions
All these application developments are aimed at tackling the challenges of traffic jams and safety with driverless vehicles. But how can we ensure these sensor chips and automotive devices function as expected? The auto industry has come up with a comprehensive verification process mechanism to validate their reliability and design safety. International automobile brands also mandate their supply chains to set up QC systems to assure consistent compliance of vehicle devices with specifications (see figure below.)
Leave verification to iST when spearing into automotive electronic supply chain
iST is a pioneer in automotive electronic verification in Asia. As early as 2008, iST schemed and embarked on the field of automotive electronic verification. In 2015, it established a joint venture called DEKRA iST with DEKRA, the world's largest automotive safety certification and testing authority. In 2020, it joined the MIH (Mobility in Harmony) Open Platform Alliance for electric vehicles. After more than a decade of effort, iST has successfully assisted up to 70% of semiconductor manufacturers in entering the automotive electronics field. With a solid foundation established in the market over the years, iST passed the rigorous audit of AEC (Automotive Electronics Council), the highest realm of the global automotive electronics field and became a member of the AEC Technical Committee in 2022. It is the first third-party laboratory in Asia to obtain AEC certification.
iST provides services in the field of automotive semiconductors. In addition to reliability verification in AEC-Q100, AEC-Q101, AEC-Q102, AEC-Q104, and AEC-Q200, as well as failure analysis services, iST can also assist companies that intend to enter the automotive electronics supply chain in implementing ISO26262/ISO 9001/IATF 16949/IECQ AQP/VDA6.3 quality management system guidance and consultation services, along with automotive environmental regulations, to help companies accelerate their certification by international major manufacturers. Furthermore, iST has built a complete automotive electronic verification chain worldwide, providing comprehensive certification/verification/analysis one-stop services for complete vehicles, modules, and components.
From verification to mass production –The essential process to achieve low power consumption/low on-resistance of automotive power component
MOSFET becomes the inevitable power component of automotive electronics and electric vehicle to cope with the diversified applications of automotive electronic products and the higher request for low power consumption/low on- resistance.
As an experienced automotive certification expert, now, iST starts to provide the MOSFET Wafer Backend Process, which is a BGBM wafer thinning services available for customers between the foundry FAB and assembly operations, so the low power consumption/low on-resistance for MOSFET can be realized.
Combining familiarity with requirements from automotive factory, Tier-1, to devices and profound technology based knowledge service to maintain your automotive electronic products
Based on familiarity with OEM/DOP/AM automobile market reliability, safety, and environment protection specification requirements of automotive factories, Tier 1 and device manufacturers, iST is converting them into technical knowledge to provide you with professional recommendations and quality service to beachhead into automotive electronics markets.