Issued Date: 2021/04/14
Issued by: iST
iST, together with Taiwan Space Radiation Environment Verification and Testing Alliance (TSREVTA), announced today the very first radiation verification for domestic manufacturers' image sensor and memory module in Taiwan. With the image sensors targeted at the space industry and memory modules at ground communicate equipment featuring high reliability, this suggests that local electronic goods makers are well prepared to make products for applications requiring high reliability as well as marking the milestone of the first verification service rendered by TSREVTA.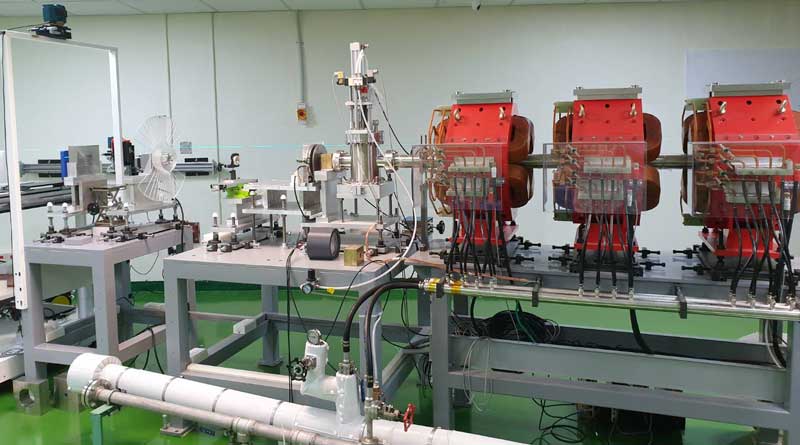 Figure: This is the 5th lab of the CGMH's Proton Center, a member of TSREVTA, where the case has been conducted.
The third national space technology long-term development program, a critical policy set by the Executive Yuan, is designed to launch 10 satellites by 2028. Based on this policy, the TSREVTA note1, a partnership joined by NSPO, iST and another five domestic units of industries, competent authorities and universities specialized in radiation field on July, 21,2020, is aiming to transform Taiwan (R.O.C.) from a leader of semiconductor manufacturing country into a part of the global supply chain of space-grade radiation-resistant electronic components.
In spite of huge amount of time and costs spent in mounting items of space electronic components' verification, iST found that there are quite many local manufacturers committed to their R&D. iST is now servicing customers in planning and executing verification items to spare them from non-R&D and tedious works. Regarding the radiation tests which had to be commissioned to labs abroad, iST and TSREVTA are now able to conduct them in Taiwan to not only save local manufacturers' time and costs in cross-border shipment but also avoid risking COVID-19 pandemic when taking business trip in foreign countries.
iST explained that the sources of space radiation, including cosmic rays, solar flares and radiation belts, are constantly emitting high-energy particles, e.g., protons, electrons and heavy ions and might deteriorate satellite electronic parts, resulting in temporary or permanent anomalies. Their vulnerability to radiation has to be tested on the ground before taking any space missions.
The electronic components' radiation verification mandates integrated specialties and practices in satellite missions, radiation sources, dose calculation, measurement and radiological safety protection. This is a tall order to any new comers. Thanks to shared language and effective communications based on long-term cooperation by iST and the industry, manufacturers coached by iST are in a good position to step into the field of radiation verification.
In addition, interactions between cosmic rays and the atmosphere would release neutron and other particles. The neutron radiation may have a huge impact on aircrafts' electronic components. Moreover, neutrons arriving on the ground can cause data distortions or even malfunctions in electronic parts of ground equipment. This makes aircrafts' electronic components and parts of ground equipment requiring high reliability to have to go through rigorous neutron radiation tests. Affected by limited facilities of neutron source, the TSREVTA member's high energy proton facilities are employed to verify electronic components of aviation and ground equipment as they behave similarly to their neutron counterparts, iST said.
Note1:
The seven units are: NSPO (National Space Organization of NAR Lab); Chang Gung Medical Foundation Linkou Chang Gung Memorial Hospital (Chang Gung Memorial Hospital); Chang Gung University/Chang Gung Memorial Hospital Institute for Radiological Research (Chang Gung University); Institute of Nuclear Energy Research (INER), Atomic Energy Council, Executive Yuan; Integrated Service Technology (iST); Institute of Physics (IoP), Academia Sinica; Nuclear Science & Technology Development Center (NSTDC), National Tsing Hua University.
About Integrated Service Technology
Founded in 1994, iST began its business from IC circuit debugging and modification and gradually expanded its scope of operations, including Failure Analysis, Reliability Verification, Material Analysis, Automotive Electronic Verification Platforms and Signal Integrity Testing Services. iST has offered full-scope verification and analysis services to the IC engineering industry, its customers cover the whole spectrum of the electronics industry from IC design to end products. http://www.istgroup.com